Domaine de la Porte Neuve description
Located between land and sea, in southern Cornwall, a land of legends, the Château de la Porte Neuve and its 30-hectare wooded estate offer you a true haven of peace, on the riverbanks of the Bélon. MGEN has made this exceptional site, listed as a national heritage site, a unique place entirely adapted to people with disabilities, their caregivers and their families, accessible to all for holidays stays and seminars.
The campsite is in a wooded park classified where you can have a walk around, suitable for people with reduced mobility.
All the paths and toilets of the campsite are accessible and adapted to people with reduced mobility.
Because disability should not be an obstacle to leisure and sport, all activities have been designed and produced to be accessible to all.
Are distributed in the domain: playgrounds for children, sports fields (tennis, football, basketball, ping-pong…), water mirror, pontoon on the river with a hoist to access to the boats, outdoor theater, sensory path, therapeutic kitchen.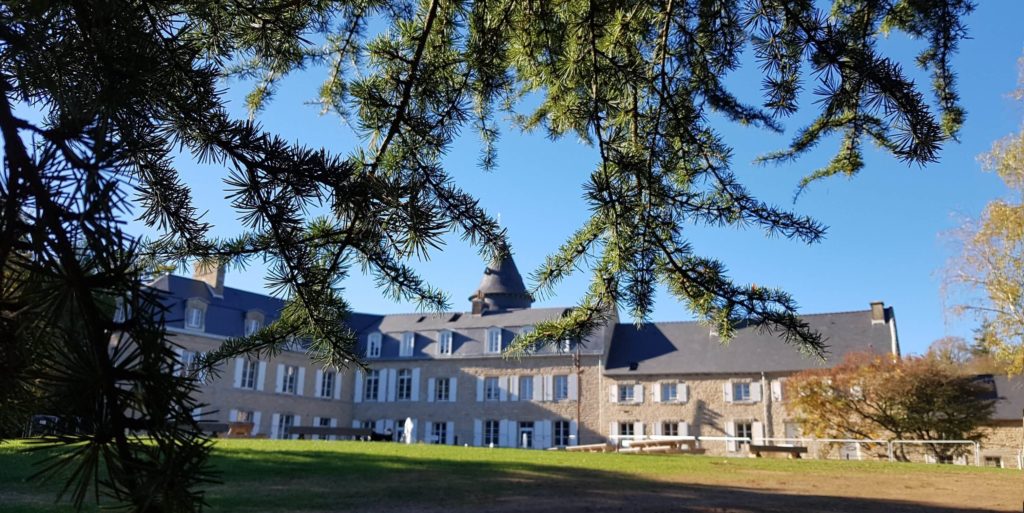 Our accomodation and equipment
Rooms at the castle with meal option at our restaurant:
Double rooms: Entirely renovated, the 13 double rooms are spacious and equipped with either double beds or twin beds. 9 rooms are accessible to people with reduced mobility.
Triple rooms: In a contemporary style, the 9 triple rooms are comfortable. With a surface area of ​​19 to 23 m², they are made up of a double bed or twin beds, and a single bed. 4 of them are accessible to people with reduced mobility.
Suites : With an area of ​​40 m², the suites combining comfort and space, can accommodate 2 to 4 people. They include: 1 bedroom with a double bed or twin beds, 1 living room with a 2-seater convertible, 1 independent bathroom, 2 office spaces. 1 suite is accessible to people with reduced mobility.
We also have a room called "Dormitory". It can accommodate 4 to 5 people, and include a large bathroom and can be used like a family room.
For all these rooms, adapted equipment is available on request: hoist, shower chairs, medical bed, etc.
Animals are not allowed in bedrooms and shared spaces inside of the castle. Only dogs recognized as "guide dogs" are welcome.
Rooms prices start at 70€ per night + restaurant option.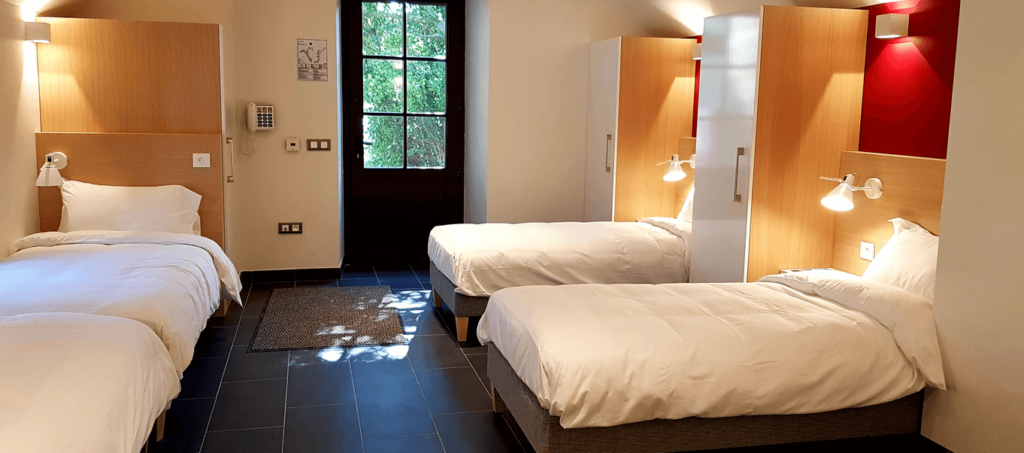 Camping site with mobile homes and camping pitches :
Mobile homes: The Domaine de la Porte Neuve has 9 mobile homes, 8 of them are accessible to people with reduced mobility.
The surface of the mobile homes varies from 38 to 45 m2. They are all equipped with a kitchen, a garden lounge and a shaded terrace.
Adapted equipment is available on request: hoist, shower chairs, medical bed, etc.
The price start at 500€ per week, for 4 persons.
Camping park: You can come with your camping car, caravan or tent. We have 50 camping pitches.
The price start at 210€ per week, for 4 persons with electricity connection.
The collective sanitary facilities of the campsite are open with free access to washing machines, dryers, refrigerators, freezers and irons.
Animals are accepted on the camping site (except dog categories 1 and 2).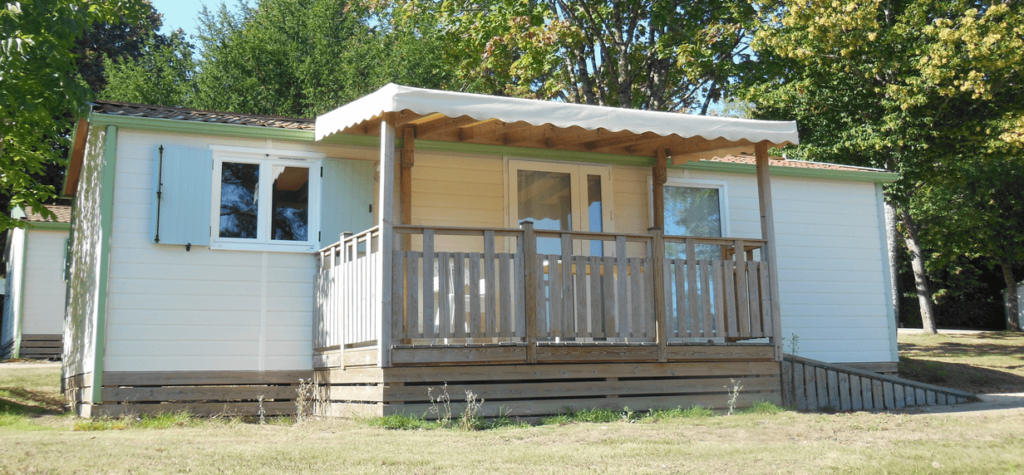 For every desire, every need: its stay
Respite and break stay, family holidays
It allows people with disabilities and their caregivers and family to take a break from the usual living environment to stimulate and develop autonomy and interaction with their environment. Well-being activities are proposed to carers.
We do not have medical staff on site but it is possible to call on local professionals who come to the Domaine on request.
Adapted nature class stay
The domain can accommodate green classes welcoming children.
Professional seminar stay
It is offered to actors of the medico-social sphere and the social and solidarity economy.
Possibility to rent the whole domain.
Location
We are based in Riec-sur-Bélon, in the southern part of Finistere, in Brittany, along the Atlantic coast.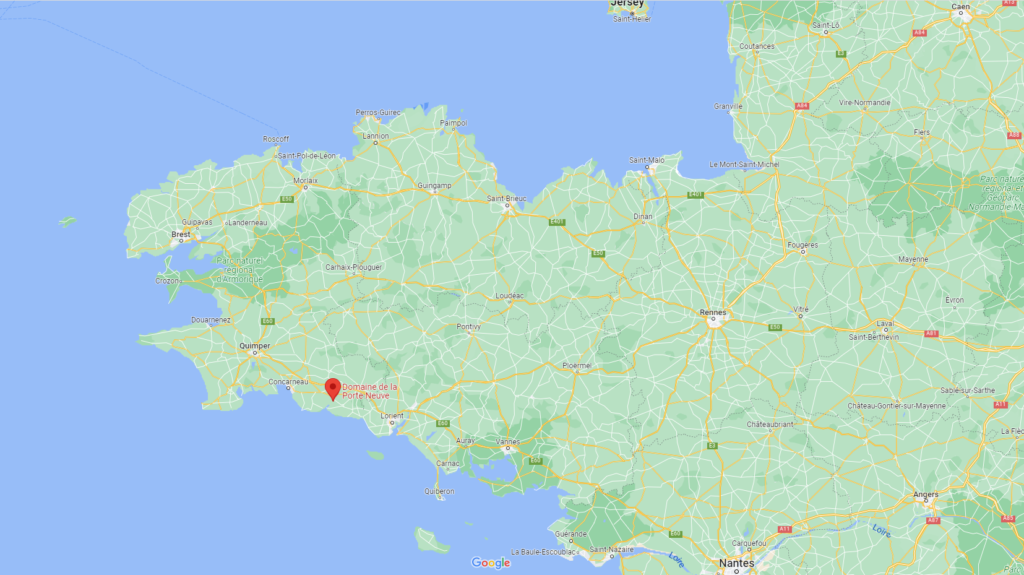 Contact-us for more information and to book your stay
By email to : domaineporteneuve@mgen.fr
By phone : (+33) 02 98 09 84 64
You also have the « Book » button on the website.